Regular price
$149.00 USD
Regular price
$169
Sale price
$149 USD
Unit price
per
Sale
SOLD OUT
This IcePod is
made specifically to be compatible with our water chiller
. it comes with 2 valves for in and outlet connection, and is the extra insulated pro version IcePod. Get our
Regular IcePod here
if you do not intend to get a chiller
🇺🇸 Ships from the USA!
PRO 2.0 vs Standard IcePod

Here is a comparison between the standard Icepod and the 2.0 PRO version:

Standard Icepod:

Designed for beginners and for recreational use
Insulated to keep ice cold for up to 24 hours
High-quality materials for frequent use
Portable and easy to set up

Icepod 2.0 PRO:

Designed for pro athletes
Advanced sub zero technology and double insulation to keep water cold for longer (2-4 days depending on your climate) and optimal cold therapy temperatures with less ice needed for every session.
High-quality UV resistant materials for frequent use and outdoor set up.
Portable and easy to set up
Dimensions

Diameter: 32 inches (80cm)

Height: 29 inches (72cm)

Weight: 7 lb (3 kg)

Capacity: 79 gal (300L)

Suitable for heights up to 6′9 foot (2.1m)
Cold Therapy Benefits

What are the benefits of cold water therapy?

❆ Boost the immune system

❆ Improve blood circulation.

❆ Better deep sleep.

❆ Boost energy & elevate mood

❆ Prevent/help depression

❆ Reduce inflammation.

❆ Reduce muscle soreness

❆ Improve metabolic function.

❆ Improve mood.

❆ Reduce chronic pain

❆ Practice discipline & resilience
Shipping

We ship all orders from our centrally located warehouse in Texas, USA.

We offer Free Shipping to all of USA, with a few exceptions such as Hawaii, Alaska & military bases (shipping for these locations starts from $37 depending on the product and weight). We ship using FedEx or USPS (and sometimes a few other partner carriers).

See the average delivery times below:

Mainland USA: 2-6 business days

Hawaii, Alaska & military bases: 4-8 business days

 

Failed or Missing Delivery:

If the package cannot be delivered to the given shipping address due to the absent cooperation of the customer (wrong or incorrect shipping address, absent receiver,) or if the customer refuses to collect the package, the package will be returned to the sender (The Pod Company) at the customers expense. 

 

Tracking & Estimates:

You'll receive tracking when your order ships out, usually within 1-3 days after the order is placed (unless it is a pre-order). Please note that we cannot guarantee the delivery date and timeframe, since it's in the hands of the shipping company, the times stated above and at checkout are estimates from the courier itself and based on averages. You can always reach us at hello@podcompany.com for assistance.
Return policy

If you are unhappy with your Ice Pod for any reason, you have 30 days to return it for a full refund. Note: you'll have to pay for the cost to ship it back to us.


After we receive it back at our warehouse, you'll get a full refund within 5 business days.

Please contact us at hello@podcompany.com for more information. 
View full details
Trusted By Pro Athletes From
BENEFITS OF ICE BATHS
Experience a natural high feeling like no other, while getting all these amazing health benefits. Cold water immersion is hands down the best thing you can do for your health.
OVERALL HEALTH

• Immune system support

• Increase blood flow

• Reduce chronic pain

• Boost metabolism

• Better sleep

MENTAL HEALTH

• Experience a natual high

• Boost energy

• Elevate mood

• Prevent/help depression

• Practice discipline

• Increased resilience

MUSCLE RECOVERY

• Lower inflammation

• Reduce muscle soreness

• Boost performance
What's Included
1x Ice Pod
1x Cover Lid
1x Nano Repair Patches
1x Hand Pump
1x Drainage Hose
1x 6 months full warranty (extendable)
1x Free home delivery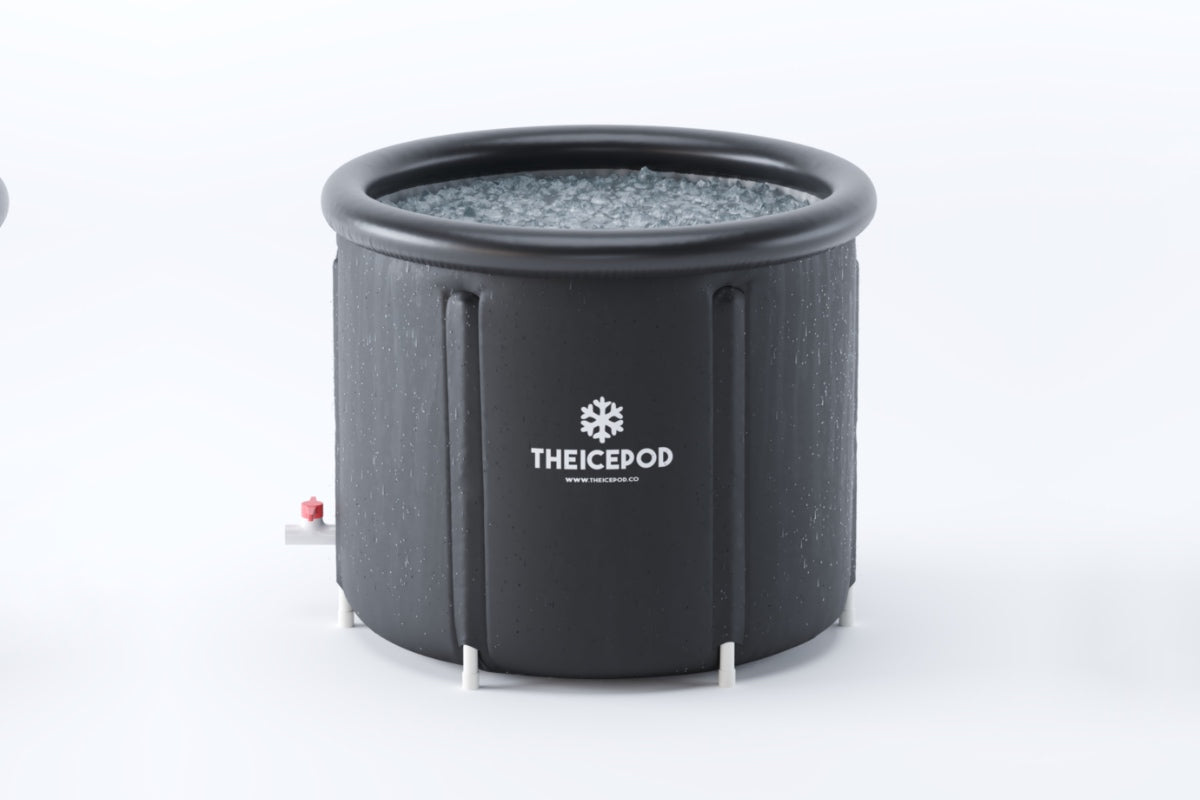 Peace of mind
Every Ice Pod comes with a 6 month full manufacturer warranty out of box. You can extend the warranty for up to 2 years for a small additional cost after adding to your cart.
We also have a 100% Satisfaction Guarantee. If you aren't 100% satisfied with your pod, you have 30 days to return it for a full refund.
The IcePod™ vs Other Ice Baths
So how do we compare to other ice baths on the market? See for yourself in the comparison below.
| | | |
| --- | --- | --- |
|   | Other Brands | |
| Price | $500+ (not including costly shipping) | From $120 |
| Bulkiness | Big barrels or bathtub-like ice baths. Expensive to ship & requires multiple people to move around. | Small, portable & foldable. Only weighs 7lb (3kg). |
| Shipping cost | Due to the large size shipping has to be by truck and costs upwards of $500 within the USA! | Free standard shipping. |
| Portable | No | Yes. |
| Insulated  | Yes (in most cases) | Yes. |
FREQUENTLY ASKED QUESTIONS
How do i drain the Ice Pod

The Ice Pod comes with a tap at the bottom for draining. To drain it, connect a standard garden hose or simply open the tap depending on where the pod is set up.
Does it include a cover

Yes. both the standard and Pro Ice Pod includes a waterproof cover to keep the water clean.

We also offer an insulated lid that will keep the water cold for longer.
How long should each ice bath session be

To get the health benefits, you'll need to stay in cold water below 59° Fahrenheit (15°C) for three to eight minutes. Cold water therapy works best with the right combination of time and temperature. Each individual is different and some people can tolerate lower temperatures.
What temperature do you recommend

We recommend starting out at around 59° Fahrenheit (15°C) if it's your first time, and then slowly lowering the temperature and duration for each session. That way your body will get aclimated to the cold.
How much ice do i need to add?

We recommend adding 13-26lb (6-12kg) of ice to the Ice Pod per session. The amount of ice needed depends on your tap water temperature and how cold you desire it to be, where if you live in colder climates, adding ice may not even be needed.

Since the pod is insulated it will keep the water cold for multiple days, and you may therefore not have to add as much ice after the first time.
How often should I clean/empty The Ice Pod

To keep the water clean for long periods of time, we recommend adding either salt or hydrogen peroxide to the water. You can buy hydrogen peroxide almost anywhere online, just google it. For the salt solution, simply buy raw sea salt, or epsom salt and add around 1 pound (0.5kg) to a full pod. You can keep the water in the pod for 2-4 weeks when using salt.
With no use of salt to disinfect we recommend changing the water every 3-5 sessions.
Can TheIcePod be set up outside?

Yes! We engineered the pod to be weather and UV resistant, so you can set it up Inside or outside, even in temperatures below freezing. The insulation layer makes the water turn to ice a lot slower, but we still recommend to stir the water at least once a day to keep the water from freezing completely solid.